Frequently Asked Questions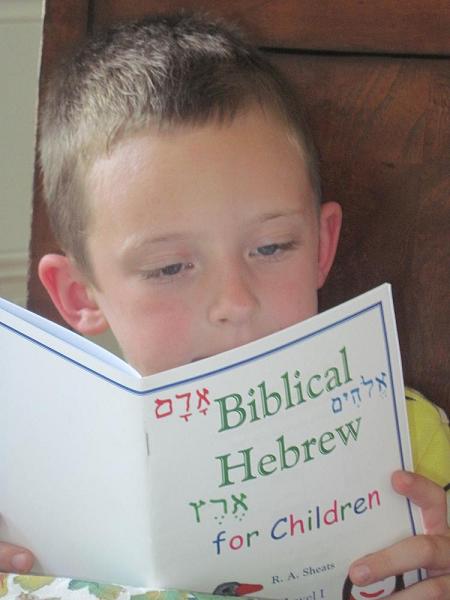 BIBLICAL LANGUAGES
How young should I begin introducing my children to Greek and Hebrew?
I've never studied a foreign language; can I really teach my children?
Greek and Hebrew for babies? Is that really such a good idea?
If I use Biblical Greek for Children, how soon will my children be reading New Testament Greek?
HISTORY
What is the purpose of studying history?
What are primary sources, and why should I read them?
ORDERS AND SHIPPING
How much is shipping?
How quickly will you ship my order?
I live outside the United States. Do you accept international orders?
Do you offer discounts for wholesale or large volume orders?
My order only contains e-books; do I still have to pay for shipping?
HOW YOUNG SHOULD I BEGIN INTRODUCING MY CHILDREN TO GREEK AND HEBREW?
The question is often asked, "How long should I wait before introducing my children to Greek and Hebrew?" The answer: "No age is too early to begin teaching the original languages of Scripture."
Paul says of Timothy that "from a child thou hast known the Holy Scriptures" (2 Timothy 3:15). The Greek word Paul uses for child means literally unborn babe or newborn infant. As is clearly seen in Luke 1:41 ("when Elisabeth heard the salutation of Mary, the babe leaped in her womb"), children become aware of the world around them and begin learning while still in their mother's womb.
If a child is already learning at such an early age, should parents not begin teaching them the pure milk of the Word at that time? Why wait? As Matthew Henry states, parents must not be primarily concerned about our children's physical or educational well-being, but instead look first and foremost to their spiritual upbringing; they must be "mostly concerned about their [children's] souls, their better part, which ought to be the principal care of all parents for their children; for that is the principal part, and it is well with them if it be well with their souls." For this reason, Biblical Greek for Children is intended to be used with both the young (4-12 years) and the very young (0-3 years) of the next generation.
I'VE NEVER STUDIED A FOREIGN LANGUAGE; CAN I REALLY TEACH MY CHILDREN?
Both Biblical Greek for Children as well as Biblical Hebrew for Children are designed to be taught by parents who have no previous knowledge of either Greek or Hebrew. The Teacher's Guide accompanying each language clearly explains all concepts learned by the children, as well as guides parents through the teaching process by clarifying the pronunciations and grammatical rules introduced in the readers. Parents are also strongly encouraged to peruse the readers with their children, and will thus quickly learn the language along with their children.
GREEK AND HEBREW FOR BABIES? IS THAT REALLY A GOOD IDEA?
The parental question: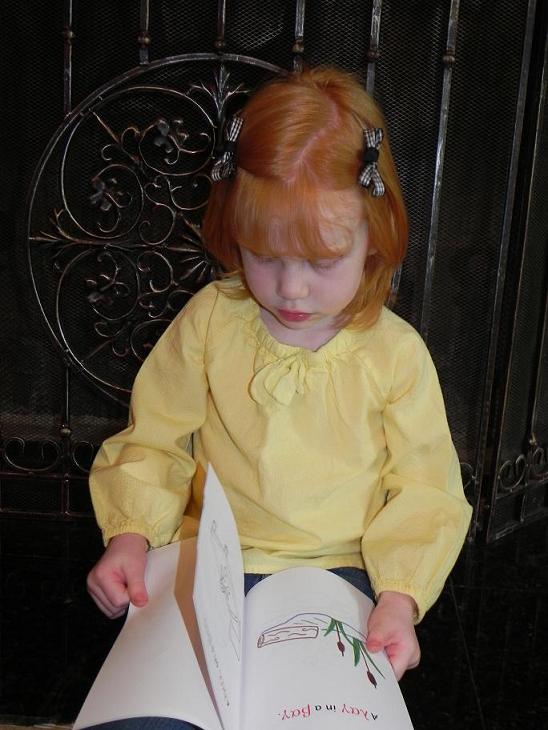 "What's that you say? You want to teach my babe Hebrew and Greek?
What are you—raving mad? Are you a lunatic, a freak?!
Have you by chance considered all the difficulties here?
Forgive me, but you must have lost your mind, or so I fear.
You know it isn't easy–why, it's even worse than tough!
Just look at all those markings! I can't even read the stuff,
And you think that my kid can learn, this little bitty tyke?
That language is for seminary students and the like.
It's not for babes or ten-year-olds, nor maybe even teens.
It's just a waste of time for them, not worth a hill of beans!
So give me back my child; yes, he can wait some twenty years;
Perhaps we'll come back then, after his schooling disappears."
The response:
My dearest, dearest parent, you've a right to question me.
I know that I'm unorthodox—that much is clear to see!
And yet, I think my teaching method may be helpful, too.
Lend me an ear. Let me explain myself, I beg of you!
I'm really not as crazy as at first it might appear,
So please give me a chance to tell you what I've started here.
The Bible is God's holy Word, set down for us to read;
In it the Lord displays Himself, demanding we take heed.
Just open up the pages of that wondrous, holy Book
And see His splendor, majesty, and glory—take a look!
Oh, what a good and loving God we serve! Look what He's done!
Not only did He rescue us by sending His own Son,
He also wrote His character in language for us all,
That we might know Him as He is, and hear His wondrous call!
Come, hallelujah! Praise His name! Let all the earth resound!
Let ev'ry nation, tribe, and tongue raise praises all around,
And glorify His goodness for His revelation vast,
The record of His dealing with His people in the past.
Can anything on earth compare to this, the Bible? No!
It is His own resplendent Word, and always shall be so.
The Psalmist says His Word should be desired more than gold—
There is no way to measure all the riches there untold!
The diamonds and the rubies hide themselves in ev'ry page,
And Christ reveals them to our eyes, no matter what our age.
They're sweeter than the honeycomb, than honey, pure and fair,
And nothing is desired more than what we shall find there!
Now, if these things be true, and if the Bible is our all,
Then surely we shall want to know it well, both great and small?
We long to find the hidden gems, but oh, they're hard to find!
How deep and wide the caverns that are waiting to be mined!
The Lord has given us a lamp: the Spirit is our light,
And He can show us anything, e'en in the darkest night,
But, with the proper tools, we shall facilitate our way.
"What are they?" you may ask. "They're Greek and Hebrew," I would say.
So pick them up. Take them in hand, and learn to use them well.
Walk wisely, and you'll find more gold than even you can tell!
My friends, with tools like these, we all could be as rich as kings.
Oh, how I wish that all the Church could wield these precious things!
I cannot teach the Church in its entirety, 'tis true,
But I must share these gems with someone, so I'll share with you!
The greatest riches in the world are here, right at your side.
Please, please don't turn away! Seek out the gold! Yes, come inside,
And bring your children—any age! God won't turn them away—
You think they might not understand, but what did Jesus say?
"Do not forbid the children, for My kingdom's made of these."
Please let them mine for gold along with you—I beg you, please!
I want His children, young and old, to hear their Savior speak,
And how I long they'd hear His words in Hebrew and in Greek!
So come, I urge you one last time. Please let the children come,
And pray that He shall open up their eyes to see His Son!
— R. A. Sheats
IF I USE BIBLICAL GREEK FOR CHILDREN, HOW SOON WILL MY CHILDREN BE READING NEW TESTAMENT GREEK?
Biblical Greek for Children is composed of Levels, each featuring six 20-page readers. After mastering the Level One Readers, children will be able to properly pronounce Biblical Greek.
After completing Level Two, students will have memorized their first two full Scripture verses in Greek, and will be able to read and properly translate the following sentences and more from Biblical Greek into English: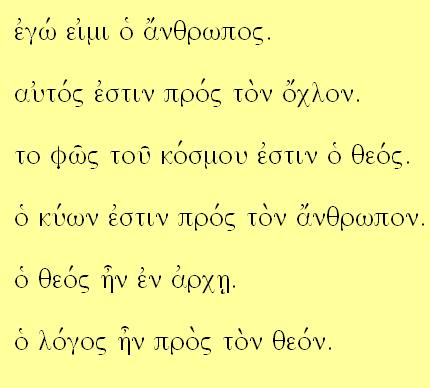 Each succeeding level of Biblical Greek for Children introduces further vocabulary and sentence structure to children, building upon the foundation already established in the first two levels.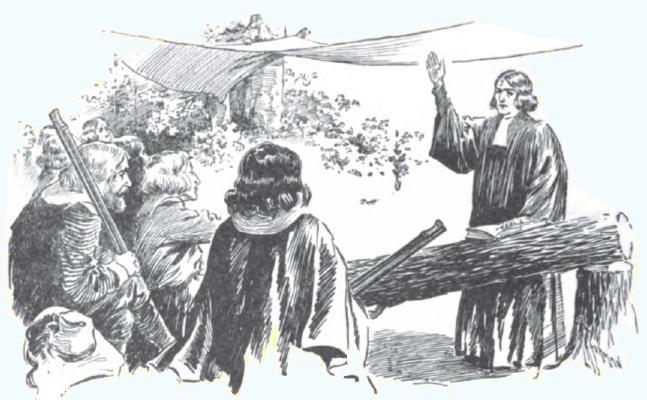 WHAT IS THE PURPOSE OF STUDYING HISTORY?
Why study history? Why does it matter what Patrick Henry thought, or what John Adams wrote, or what George Washington did? What is the purpose and meaning of history, and why should we care?
The purpose of history is to know God and to know how He interacts with His creation. We study history because it teaches us about ourselves, our world, and our God. History is the object lesson that drives home the fundamental truths of Scripture and causes us to know more and more the character of our God and the unchangeableness of His nature and faithfulness. This is, indeed, the reason for history. We study history in order that we might declare to the next generation "the praises of the Lord, and His strength, and His wonderful works that He hath done" (Psalm 78:4), in order that "all the people of the earth might know the hand of the LORD, that it is mighty: that ye might fear the LORD your God for ever" (Joshua 4:24). In short, we study history to study God.
WHAT ARE PRIMARY SOURCES, AND WHY SHOULD I READ THEM?
The term primary sources refers to historical documents written by men or women who were primarily connected with what they wrote about. Also known as first-hand accounts, these documents record history as seen through the eyes of those who actually lived it. Primary and first-hand accounts differ from secondary sources or accounts in that secondary accounts are written by those who were not present when the account about which they are writing took place.
For example, a modern history textbook about American presidents is a secondary source, while the writings of President Washington regarding his life and presidency are a primary source about the birth of our nation.
HOW MUCH IS SHIPPING?
We ship every order for one low rate: $3.99.
HOW QUICKLY WILL YOU SHIP MY ORDER?
We ship most orders within 24 hours.
I LIVE OUTSIDE THE UNITED STATES. DO YOU ACCEPT INTERNATIONAL ORDERS?
Yes, international orders are welcome. International shipping charges are not listed on site, however; please contact us for shipping options.
DO YOU OFFER DISCOUNTS FOR WHOLESALE OR LARGE VOLUME ORDERS?
We gladly offer discounts to churches, non-profit organizations, schools, homeschool groups, and other organizations who desire to purchase wholesale or in large quantities. For more information and wholesale pricing, please email us at orders@psalm78ministries.com.
MY ORDER ONLY CONTAINS E-BOOKS; DO I STILL HAVE TO PAY FOR SHIPPING?
No. For e-book orders a shipping fee is not required. Simply select the "E-BOOK ONLY" shipping option during checkout.